Technology has done a lot to improve many facets of our daily lives. This includes healthcare.
The healthcare industry has been reaping the benefits brought about by the advancement of technology. If you are wondering what those benefits are, here is how technology is making a positive impact on the medical system.
Increased Efficiency
There are so many people who need care every day. Because of this, doctors and nurses have to deal with tons of data to provide the appropriate treatment to their respective patients.
Handling patient data is one important way technology has reshaped and improved healthcare. The digitalization of health records has made access to vital medical information easier and faster for both the carer and the patient. Moreover, it eliminates mistakes. When the general practitioner logs information into the computer rather than writing it on a form, there is little chance of misinterpretation.
When it comes to out-of-hospital care, certain services and platforms make getting appropriate care less complicated. For example, Julota connects first responders with local organizations so that whenever a vulnerable member of the community needs help, they can immediately get access to specialists who will have the right resources to address the problem at hand.
Going digital streamlines the workflow, from diagnosis to treatment. This way, medical workers can respond more quickly and effectively to patients who go to the hospital or call the authorities for help.
Personalized Treatment
The collection of data is now easier and more accurate thanks to technology. The use of wearable devices such as fitness or sleep trackers made personalized treatment possible. These devices monitor the well-being of the patient and provide insights that the doctor otherwise may not be able to immediately catch during face-to-face consultations.
By analyzing a patient's unique data, the doctor can recommend a more effective treatment and care that targets specific problems and based on their condition and lifestyle.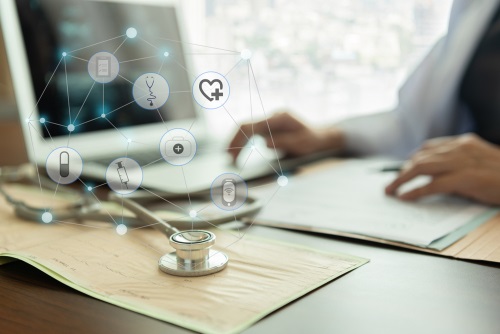 Easy Access for Everyone
Not everyone can go to the hospital and be seen by a specialist. In such cases, telehealth makes it possible for a patient to consult with healthcare providers about their ailment.
Telehealth uses electronic communication to allow the exchange of information. This allows clinicians to monitor the well-being of patients who are undergoing treatment and make sure that they adhere to the treatment plan assigned to them. Everything is done remotely, which can reduce the cost of consultation and give the patient access to a specialist from anywhere in the country.
Lower Cost
There is a lot of money saved from using technology in the healthcare industry. While the initial cost of integrating a new device into the hospital or clinic can be high, in the long run, a lot of money will be saved. Switching from paper to electronic records, for example, can save up to $5.14 per patient per month, according to one study.
Moreover, the use of technology significantly reduces the time a patient spends inside the hospital. This saves both the patient and the hospital cost that comes with performing medical procedures for diagnosis and treatment as well as admission.
Technology is still evolving and healthcare is not perfect. There are still a few challenges that healthcare providers face daily. For example, the security of having sensitive medical data saved digitally is a constant concern. Experts warn that hackers can steal patient information. However, in most parts, technology has proven to be an ally in providing care and treatment to the general public.