The pandemic has highlighted the importance of the pharmaceutical industry to people around the world. The rapid development of Covid 19 vaccines by pharmaceutical companies in collaboration with governments has saved countless lives against the life-threatening virus across countries. Without the technology and scientific expertise of these companies, the pandemic would have had an even more tragic toll.
Financial Outlook
A study by the QuintilesIMS Institute shows that worldwide spending on pharmaceutical products will reach almost $1.5 trillion by the end of 2021. Most of this will be from purchases of treatments for cancer, diabetes, and autoimmune diseases. The growth of the market in the next five years will be 53 percent from the United States, followed by 12 percent from China.
The study predicts that launches of new medications will reach historic proportions from 2021 to 2026. In 2021 alone, there are over 2,000 new medicines under development that are expected to result in an average annual yield of 45 new active substances (NAS).
Major Players
While there are many startup pharmaceutical companies, the large multinational companies remain in the top 10. The top multinational pharmaceutical company in 2021 is Roche with $49.5 billion in sales and employing more than 90,000 people. It leads the industry in the fields of neuroscience, oncology, infectious diseases, immunology, and ophthalmology.
The second is 250-year-old Novartis with $48.6 billion in 2021 sales and operating in 155 countries worldwide. Its focus is on innovative medications, biosimilar medicines, and generics. Its highest-grossing product is Entresto, a medicine for chronic heart failure.
In third place is Abbvie with $45.8 billion in sales in 2021. This company broke off from Abbott in 2013 and now has 48,000 employees in more than 70 countries. In 2020, its sales from hematologic oncology medicines increased by a significant 22 percent, and its immunology medicines sales increased by 13 percent.
The fourth is Johnson & Johnson with $45.6 billion in sales in 2021, expected to further increase with its Covid 19 vaccine. Its highest selling products are Darzalex for immune-related inflammatory diseases, Imruvica for multiple myeloma, and Erleada for prostate cancer.
In fifth place is Merck & Co. with $43 billion in sales in 2021. It was established in 1891 and now employs 74,000 people around the world. Its highest selling products are Keytruda for melanoma and the Pneumovax 23 vaccine.
In sixth to tenth place based on 2021 sales are Pfizer at $41.9 billion, Bristol Myers Squibb at $41.3 billion, Sanofi at $30.6 billion, Takeda at $29.2 billion, and Amgen at $25.4 billion.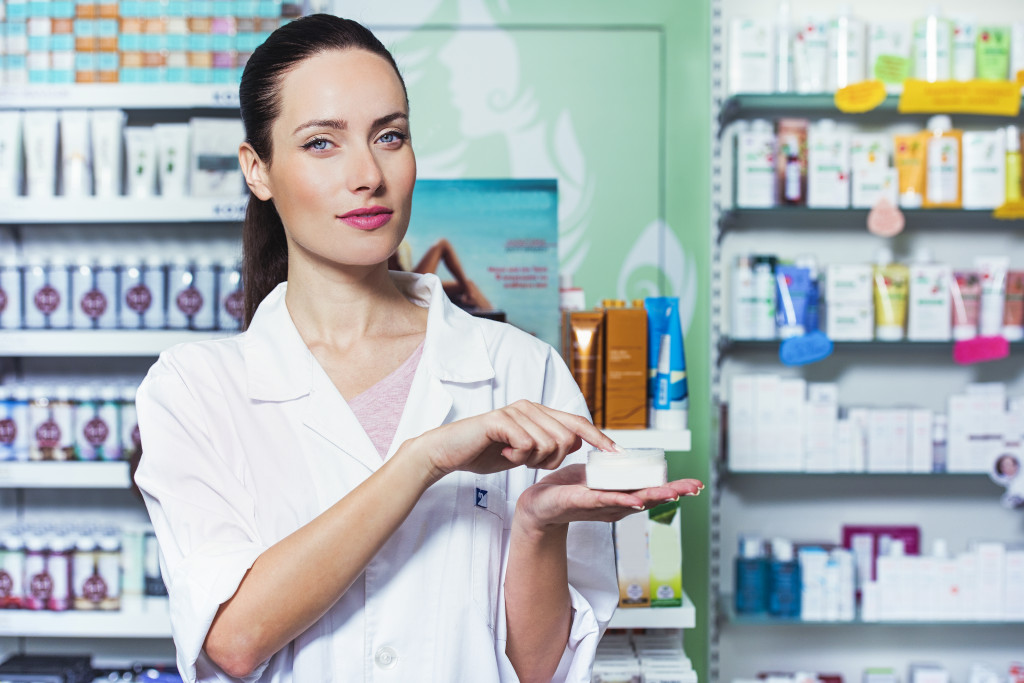 New Trends
There are new trends in the pharmaceutical industry, although the basics remain the same. For instance, the development of medicines still has to undergo rigorous processes that include the United States Pharmacopeia (USP) dissolution test, many phases of clinical trials, and application for approval with the U.S. Food and Drug Administration (FDA).
The new trends include the application of software, automation, and robotics, as well as the maximization of data. In the distribution of medicine, for instance, Central Fill as a Service (CFaaS) counts, fills, and dispenses medications in an automated system. This can be used in warehouses to prepare stocks for distribution. It can also be used in pharmacies to fill individual patient prescriptions. This lessens the need for manpower and lowers costs. It also removes human error and increases efficiency because automation works faster.
Pharmaceutical companies have to deal with large volumes of data, from research and discovery of new medicines to clinical trials, hospital data, and market monitoring. They need to use technological analytics to manage, process, and analyze such data. Artificial intelligence (AI) is used in data analytics. It can accelerate the process of research and development of medication, identify patients eligible for clinical trials, produce insights for use in marketing strategies and campaigns, and analyze trends in the market.
A new development in medication is precision medicine or medication produced based on the individual patient's characteristics such as age, weight, sex, existing diseases, and others. New technology enables pharmaceutical companies to create a model for such a personalized medication. Small batches of personalized pills can now be manufactured using advanced 3D printing technology. In the development stage of medicines, advanced 3D printing called electro-hydrodynamic printing (EHDP) is used to generate human tissues for medication testing.
During the pandemic, pharmacies dispensed supplies of maintenance medications for 90 days instead of the usual 30 days. This is to decrease the patient's exposure in going to the pharmacy. They found this to be more efficient for their operations, as well. This will, therefore, likely continue.
Addressing Global Needs
The pharmaceutical industry continues to address global needs for the medical treatment of diseases. As the global population and life expectancy are increasing, the need for medications also increases. The pharmaceutical industry is also the world's defense against any new pandemic that could arise.