A focal point is an area within a particular room in your home that draws attention. Creating a focal point in each high-traffic area — living room, kitchen, and bedrooms — is necessary because it enhances the aesthetics of that space. It also drives away attention from any design blunders and awkward architectural details.
Finding a focal point is simple, and it doesn't have to be just one. You can create multiple focal points as long as they won't overwhelm the space. If you're about to embark on a home remodeling project, consider every area of your home, from the lawn care costs to the renovation of an old fireplace to make the ideal focal point of your home's interior.
How to Find a Focal Point
The biggest feature in a room is the ideal spot for the focal point. In typical American homes, a fireplace serves as the living room's focal point. So if you have one, spruce it up to make it stand out even more.
But if you don't have a fireplace, you can use a piece of furniture, a wall, a window, or even a ceiling as a focal point, as long as it's big or distinct enough to draw attention. For example, use vintage furniture in a contemporary space. Consider a large piece of artwork, a big picture window, or a vaulted ceiling with rustic-style beams in a large open area.
You'll know that a certain spot is a good focal point if it's the first thing you see upon entering a room. Furniture usually needs to be grouped around the focal point, but this isn't necessarily required. Artwork, drapes, or plants can take the furniture's place instead if they are more suitable in the area. Here are some design ideas to inspire you:
1. Contemporary fireplace
If you're still using the same old fireplace that's been in your home for decades, it may already be dated in design. Tear it down and replace it with a modern fireplace design using materials, such as slate tiles, to give it a fresher, more contemporary look. Mosaic tiles also work well. For the mantelpiece, consider wood, or just remove it altogether, since contemporary fireplaces often have no mantelpiece.
2. Gallery wall
If your space doesn't have any distinct architectural detail, use a big chunk of your wall space to create a gallery. Collect various photos and artwork from different sources to achieve an eclectic design. But if you prefer something more uniformed, try sticking a certain color palette, or just go with black and white.
3. Accent wall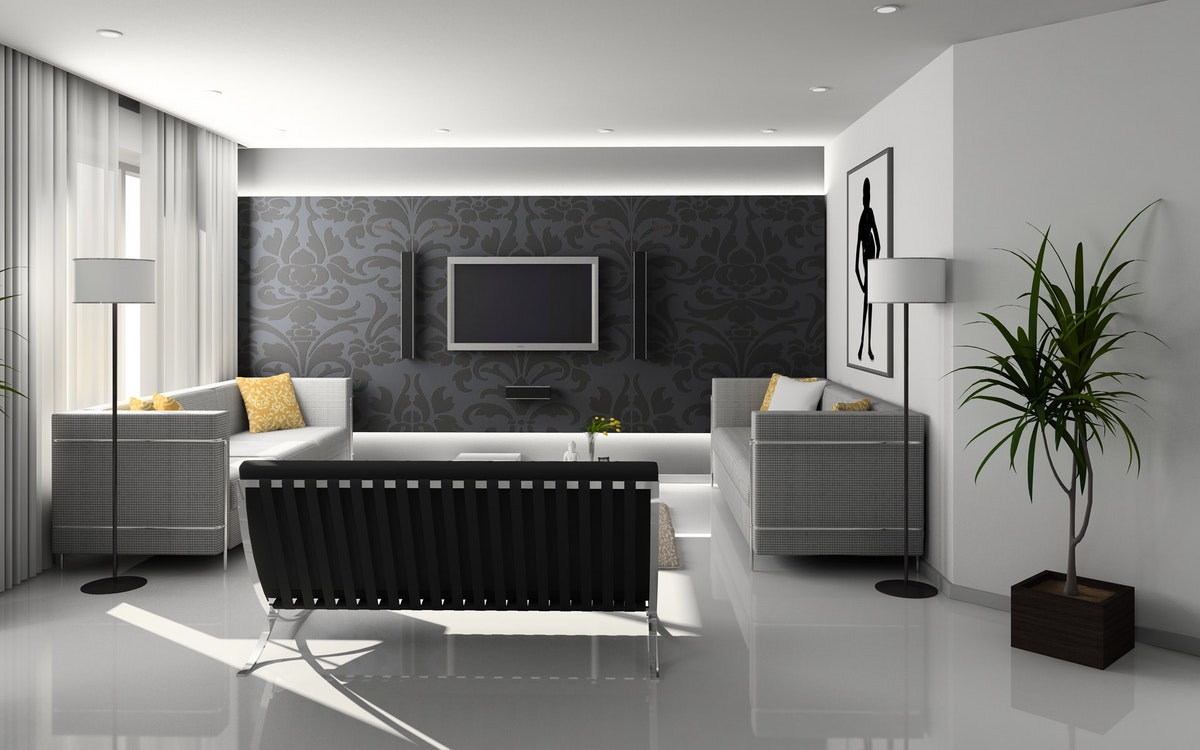 If a gallery wall doesn't work, an accent wall will also do well to draw your visitor's gaze. Paint one side of a space a different color from the rest, or dress it up with a different finish such as bricks or shiplap. To further highlight the area, put a piece of furniture up against it, and hang large artwork.
4. Big window
A coffee table set, along with floor-to-ceiling drapes and roman blinds, accessorizes a big focal window best. If you're feeling a bit quirky, consider mismatched chairs; they will undoubtedly catch attention.
5. Potted tree
A focal point doesn't have to be flashy, especially if your space has a minimalist design. In this case, a potted tree will be one of your best focal point options. Put it at a corner to add life and color to a muted space.
6. Light fixture
And since you can have more than one focal points, why not hang a beautiful chandelier from the ceiling, too? Depending on your tastes and design preferences, you can have either a contemporary, mid-century modern, or traditional chandelier.
Design inspirations for focal points are limitless, so don't hesitate to look for more and test that creativity of yours. Just don't forget the most important tip: it must be the first thing you'll see when you enter a room.