Starting a business is exciting, but you need to decide which industry to enter first. An auto repair shop, for instance, is a good business idea because in the United States alone about 276 million cars are in use as of the first quarter of 2019. These cars may experience problems every now and then, and there's no other way to service those vehicles but with repair shops.
Utah has about 2.3 million registered cars and only a handful of auto repairs are in its different cities. Planning on starting a car repair shop there is ideal since there would be a lot of cars that need to be serviced. But, before you start your own business, you should get the appropriate vehicle repair equipment and tools.
Aside from that, there are a few things your repair shop should have before opening up to customers. Here are some of them:
A repair shop should have wide access for customers to drive in and out. There should be an allowance in space for hoists and equipment. If space is limited, rolling jacks can be used to maneuver the vehicles by hand.
The commercial space that is needed for an auto repair shop should have high roofs and a good reinforced concrete floor. Ceiling height should be at least 15 feet, while concrete floors reinforced with steel should be at least six inches thick, enough for hoists to have solid mounts. Reception area, office, break room, and toilets are also to be well-thought-out to accommodate staff and clients.
Lighting condition is important in a repair shop. Invest in good lighting fixtures and allow a provision for natural light. Daylight added with good lighting is needed when inspecting gears, cylinder blocks, and wheel bearings. Painting the shop in light colors, particularly white, can help distribute the lighting and can help illuminate the space better.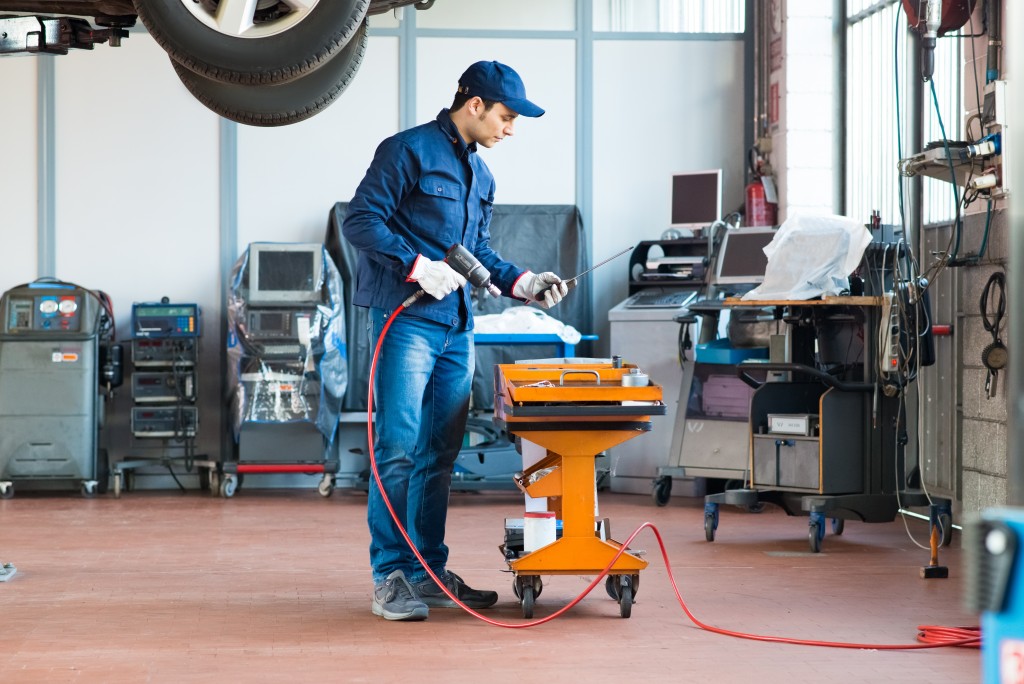 Check state regulations for repair shops and zoning when considering leasing or buying a commercial space. Also, check if proper permits are in order to avoid problems in the future. Ensure that the staff and mechanics who will operate each machinery are properly trained and certified.
Drainage should be checked or installed properly, as there may be cases for oil or fluid spills. An emergency spill kit should also be available in the shop in case of industrial spillage. Make sure that there are also ample fire extinguishers in the shop.
Repair shops need tons of tools for fixing a vehicle. A good storage solution is worthy of consideration for the mechanic's benches. Drawers and shelves are a good option for organization to avoid clutter on the floor.
A mechanic with years of experience under their belt can easily point out repair shop requirements and know-how. Getting a good team to serve people and fix cars is also a good starting point aside from getting the necessary repair equipment. Starting up a vehicle repair shop business can be risky, but it is a worthy investment as long as there are cars that need fixing.