Like everything involved in technology and the digital world, digital business design trends come and go rapidly. There is not much about digital business design that stays permanent, save for the most basic principles that are proven effective time and time again. Having said that, businesses need to stay on top of these design trends to avoid being left behind by their competitors and, more importantly, to effectively catch the modern-day customer's attention.
With the unexpected rise in businesses shifting their operations online due to the pandemic, 2020 has seen a lot more changes when it comes to 'what's in' in digital business design. Take a look at some of the most popular trends that took over this year:
1. Metallic minimalist
Although metallic designs are not new in branding, 2020 has seen a spike in the use of metallic elements in graphic design, packaging, 3D design, and more but combined with the minimalism trend taking over the design world for years now. Instead of ornate and complicated metallics, we're seeing its use in bold, cool, and modern designs, exuding clean and striking visuals that exude a sense of luxury at the same time.
Even if you get affordable brand design services to create your graphics, using metallic elements can make your business look sophisticated and expensive.
2. Line art
Line art has taken its place as one of the biggest design trends in 2020. Whether illustrated or animated, line art has proven extremely useful for conveying ideas and concepts in a simple yet sophisticated manner. It's fun and nostalgic, mainly because it reminds people of adult coloring books that had risen in popularity a few years back. More than that, it makes a business look playful and not-so-serious without making it look juvenile.
3. Visual storytelling
Screens are getting bigger, and attention spans are getting shorter. To cope with this rapid shift in our society, brands are making use of visual storytelling that eliminates the need to have blocks of text on their website to make audiences know what they're all about. With easy-to-read infographics, striking photography, and easily digestible artwork, businesses can hit two birds with one stone: catch the attention of the customer and minimize text that, in this modern age, no one has the time to read.
4. Natural, eco-friendly elements
Study shows that nearly 70% of consumers in the U.S. prefer eco-friendly or sustainable brands, driven by the desire to reduce their negative impact on the environment in the light of climate change. But while the concept of sustainability is nothing new in branding, recent years have seen more and more businesses using natural or eco-friendly elements in their designs, and 2020 is no exception.
Natural earth tones, nature-inspired textures, and eco-friendly elements make up a modern and sustainable business digital design. This aesthetic, combined with the business's actual sustainable actions, is one of the most effective ways to attract more customers to your brand.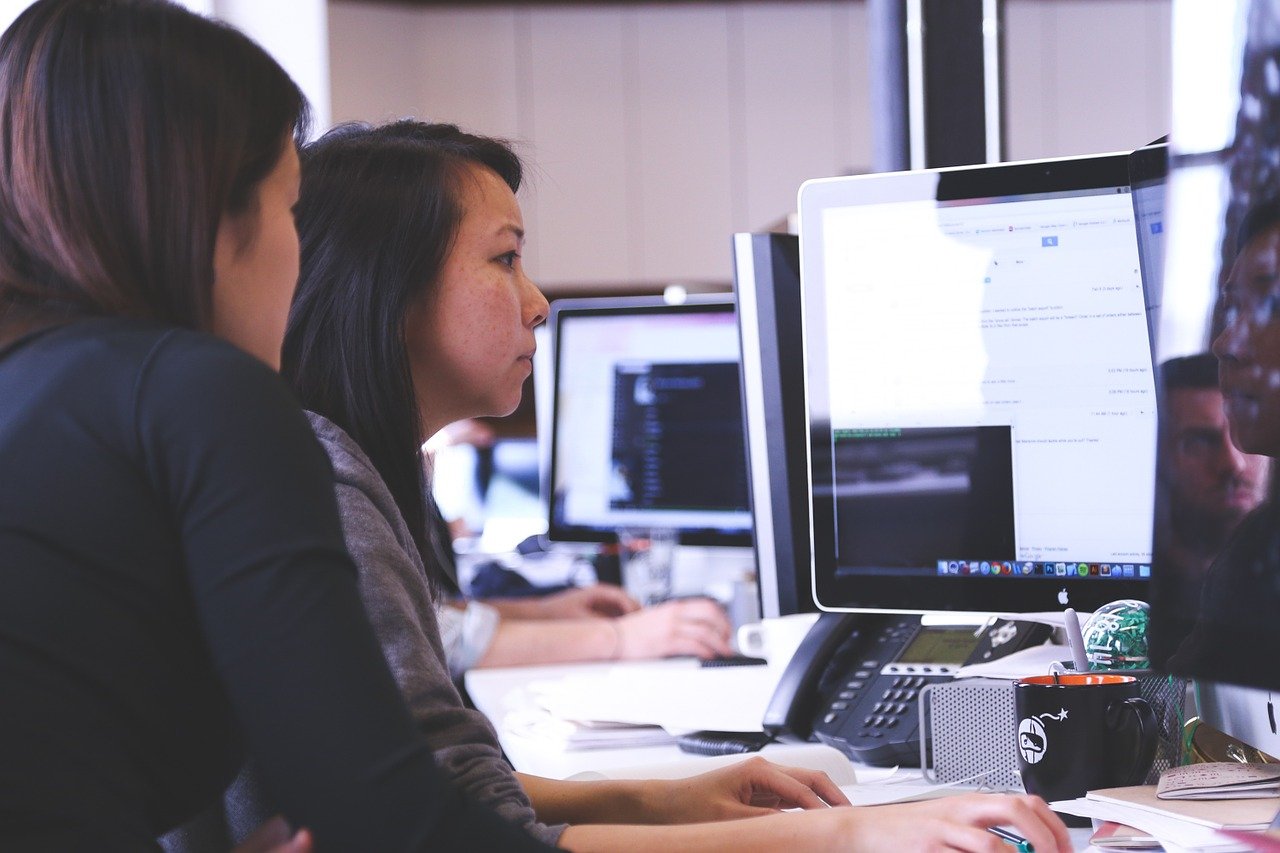 5. Multicolor gradients
Another popular trend in business graphic design is multicolored gradients that combine vivid hues to create an eye-catching palette. This design element usually exudes an artistic, futuristic feel that can make a brand look more original and creative.
6. Retro designs
Nostalgia is apparently a powerful marketing tool, so the retro trend is here to stay, especially in 2020. Retro-style typefaces, grunge textures, yesterday's color schemes, 50s style illustrations, and old-fashioned patterns are just some classic elements that businesses are using to make their brand look like a blast from the past but with a modern twist.
7. Custom font
These days, using pre-created typefaces is not the best way to make your brand unique. Hence, some businesses opt to have custom fonts created for their brand to make it look unique. In most cases, brands with custom fonts also use the typeface to create their logos, which often forgoes the need to create an actual illustration.
8. Animated logos
What can make a logo more unique and eye-catching? Making it animated, of course! 2020 has seen an influx of brands using animated logos, whether in fun cartoonish styles or sleek, minimalist designs. In any case, an animated logo can add flair to your website or social media pages and make your brand more memorable.
Your business's design plays a huge role in its potential for success. And while it's not a good practice to hop on every trend that makes it big, keeping up with the latest trends and incorporating some of them into your design is the best way to keep your business looking modern and updated.