With so many brands and varieties of beer available on the market, making an entrance in the beer scene with a new brew can be a challenge. But that doesn't stop the process from being exciting. If you want to brew beers professionally, you need to be equipped with essential information, such as the significance of hops in beers.
There are several types and varieties of hops, both homegrown and imported. It's one of the four essential ingredients of beer alongside water, barley, and yeast. They play a big role in the beverage's bitterness, flavor, and stability.
Suppliers of hops for small breweries can be found in some countries, including the U.S. You can have your hands on noble varieties such as the German Hallertau Blanc hops.
What exactly are hops?
Brewers call the cone-shaped flowers in a hop plant as "hops". It contains acids and oils that contribute to the beer's overall taste. Hops are generally added in the boiling stage, and it would take about an hour for the acids to be released and balance out a beer's flavor.
The level of bitterness and aroma depends on factors such as the hops' growing condition. Your choice of hop will vary depending on the brewing style.
Noble Hops
These hops originate from Germany and Czech Republic. They are called noble because their range of aromas sets them apart from other types. Hallertauer Mittelfrüh is Continental Europe's most famous hop. Its aroma is gentle and floral and it has a slightly peppery and woody spiciness. Tettnanger has an earthy flavor with a citrus aroma. Spalt or Spalter is also peppery, but an easy-going type. Saaz, also known as Žatec or Saazer, is from Czech Republic and has flavors similar to Tettnanger and Spalt. It is known for its assertive earthy spiciness.
English Hops
These hops have a dedicated global following. Some types include:
Fuggle, which is an earthy, cedary, minty, and floral type
Challenger, which boasts its tea-like earthiness and fruity bitterness reminiscent of lemon-marmalade
It is used in many English pale ales; a long-time popular variant is Golding, which has an earthy, peppery, and lemony characteristics. Another popular type is called Northern Brewer. Found in California common beers, this hop has a woodsy minty-ness and pine-like aromas.
U.S. Hops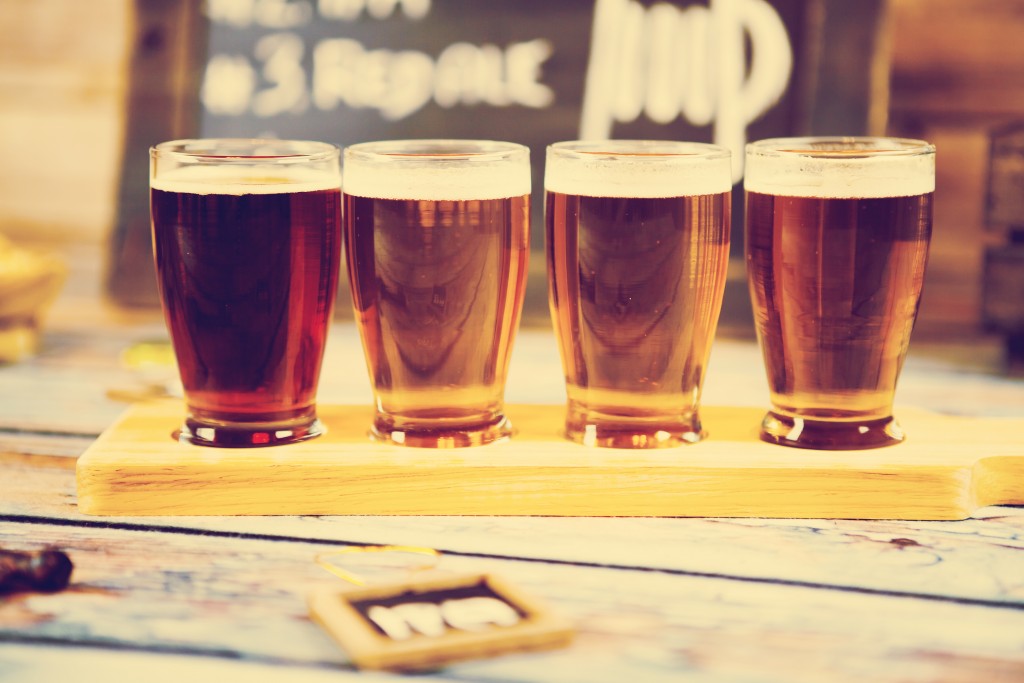 Hops grown in the U.S. are valued all around the world for their bold and intense flavors imparted to beers. One hop that started the hoppy American craft beer revolution is homegrown and its called Cascade. It is comparable to a grapefruit rind, though it may be an intense floral type. There's also a hop sometimes described as a "super cascade", the Centennial. This hop's aroma is similar to Cascade's, but some say Centennial is a bit more floral. Columbus or CTZ is another type, which is a potent and flashy hop.
More About Hops
Hops are classified into three different categories, namely: Bittering Hops, Aroma Hops, and Dual-Purpose Hops. Bittering hops are also known as kettle hops and they are added during the beginning of the boil. They have more bitterness because of the high acid range. When boiled longer, the heat breaks down the acids and the wort absorbs them.
Aroma hops, meanwhile, are known as finishing hops. They are used to add flavorings to the beer. The noble hops, along with Golding, Fuggle, and Cascade, are all popular aroma hops.
Lastly, dual-purpose hops are somewhere in the middle, leaving brewers to decide whether they work better in imparting bitterness or flavor. Centennial and Northern Brewer are both examples of a dual-purpose hop.
As you go along the art of brewery, you'd surely discover more hop types and several ways to work with them. Though some have similar characteristics, each hop is unique and you can brew beers of different flavors and aromas with them.