Several studies found that a company's office space affects their employees' well-being. The Fellowes Workplace Trend Report showed that 87% of workers would like their workplaces to offer healthier benefits, one of which being wellness rooms. A whopping 93% of workers in the tech industry, meanwhile, reported that they would stay longer in a company that offers healthier workplace benefits.
From these survey results, we can gather that employees are seeking a more comfortable environment. It isn't hard to understand why; dull and drab offices with poor lighting stimulates stress and lower productivity.
Thus, as a business owner, you should put importance on your employees' happiness on top of their work performance. When employees are motivated and contented, they'll naturally become more productive and efficient. So here are the ways to give them a homey office space that they deserve:
1. Incorporate Residential Elements
Traditional offices are filled with work desks, partitions, and other uninteresting furniture. Deviate from that standard and incorporate residential elements, instead. Use more armchairs than desks, chandeliers than fluorescent lights, and drapery than partitions. But of course, don't forget to implement privacy; enclose spaces for conferences and for those who need a quiet space.
For the walls, consider felt acoustic panels to enhance the space's aesthetics and inviting charm. They can be custom-made, offer superb acoustic and thermal insulation, and are easy to install.
Improve lighting by maximizing access to natural light. Install decorative sconces if you'd rather not splurge on a chandelier. Don't forget task lighting as well. The space should blend natural, ambient, and task lighting well.
The tone of the lighting is crucial, too. Choose lights that offer maximum comfort; not too dim that induces drowsiness, and not too bright that causes headaches.
2. Play With Color
Neutrals are the safest color palette, but don't be afraid to include other tones into the mix. Blue is found to invoke productivity the best, but its effect may not go well some job types. Hence, consider different colors like green, which invokes serenity, or yellow, which symbolizes originality.
Note, however, that as you consider different color palettes, choose one that follows your brand colors. And aside from paint, other elements can provide colors, too, such as artwork, graphics, and upholstery.
3. Highlight Comfort
Lack of decor and texture decreases a space's comfort and appeal. Solve that by having indoor greenery, plush seating, area rugs, and personal ornaments. Consider making your flooring carpeted, too; efficient commercial carpet cleaning services at your disposal when it gets dirty.
And to heed the workers' wishes of a healthy workplace, provide wellness areas and relaxing spaces, like a reading nook, an open-plan kitchen, a coffee bar, and a socializing corner.
4. Find Inspiration From Other Homey Offices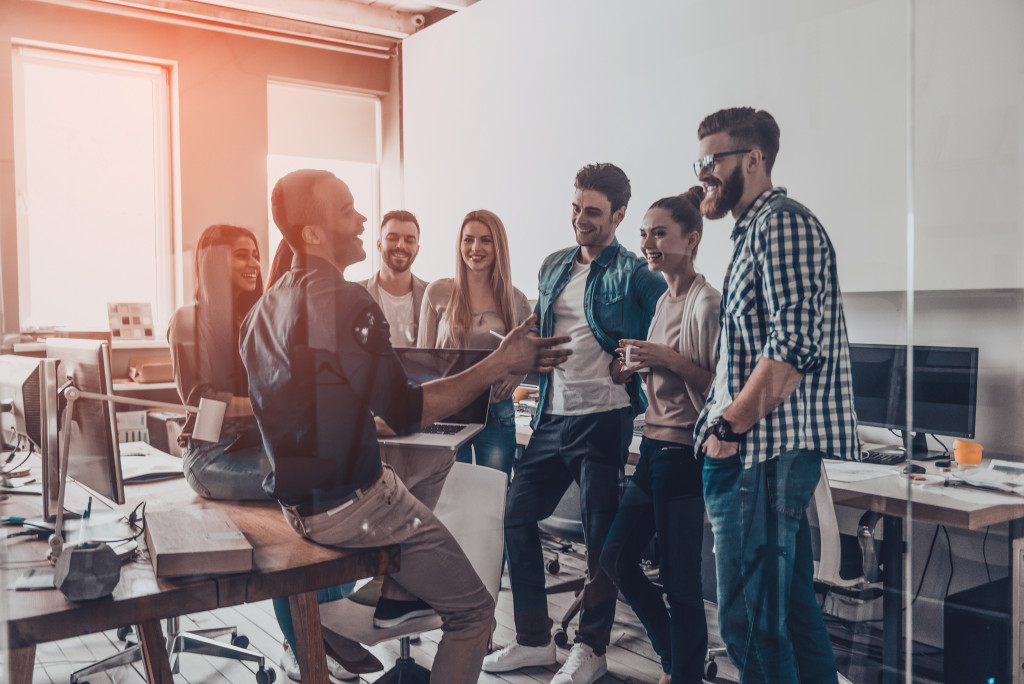 If you can't picture a homey workplace well, browse photos of popular cozy offices, like the following:
Objective Subject office — A private workspace designed more like a home than an office and includes a dark nap room.
Airbnb headquarters — Feels just like an Airbnb house
Kinfolk offices — An open-concept office with Scandinavian interior finishes
IKEA Sweden — Has 15 spaces with distinct styles, including a moody editing room with dark gray walls
Eventbrite offices — Has a "Zen-like" room with a hammock, where employees can work and relax
Muxin office, China — Furnished with warm home interiors
There are more homey offices around the world where you can steal ideas from. Consider the preferences of your employees, too, so everyone can be happy with your new design. Afterward, expect a surge in productivity, good moods, and success.