A warm bubble bath, an overlooking view of lush vegetation, and a pungent aroma of lavender and eucalyptus.
After a stressful work week, we all want to go on a relaxing vacation somewhere in the rich rainforest of the Amazon. But you don't have to travel thousands of miles away to get close to nature, because you can turn your living space into a jungle hideaway.
Add a Splash of Color
Set the mood of your apartment by refurbishing your walls.
If you want to capture the lush aesthetic of a tropical rainforest, paint your apartment walls with earthy colors. This palette consists of neutral and warm hues that represent elements of nature.
To perfectly mimic the ambiance of the wilderness, opt for tropical greens. If you prefer a lighter shade of green for your walls, choose dusty turquoise or soft light green. However, if you want a bold pop of color in your apartment, moss green would definitely work for you as it also captures the exact lush colors of the rainforest.
But if you want a more muted look to your walls, opt for brown. It still fits your forest theme since it mimics the climate of the woods. You can choose among warm beige for a desaturated touch, deep caramel for a warmer look, or soft, warm brown for a darker shade of color. However, if you want a more lively and fruity interior, muted peach and deep salmon are ideal base colors for your walls.
Bedazzle with Plants
Spruce up your apartment with various potted plants to achieve that jungle-like ambiance.
The trick to making your apartment more visually breathtaking is to decorate it with numerous plants of different kinds and sizes.
If you want to give an illusion like you're stepping into the wilderness, arrange your potted plants in groups of three, ideally with varying sizes to add dimension. Clustered plants work best when placed in room corners or near the window area.
To add a level of luxury in your rainforest space, you can place your indoor vegetation on lovely plant stands. Choose multiple-tier wooden stands and metal utility carts as they can house multiple small-sized plants. Using plant stands to display your plants will make the overall aesthetic of your apartment truly enchanting.
Throw in Some Wood
Decorate your apartment with natural-looking furniture to give that outdoorsy feel. A medium-sized rattan chair, suar wood table, and large woven basket are lovely additions to your jungle-like interior.
Dressing your lamp and lighting fixtures with rattan also adds a wow factor to your cozy retreat. It can give that rustic ambiance you're aiming for.
Aside from that, there are mirror frames, bar carts, ottoman, and large lanterns made out of rattan and wicker that you can include as decorations to your retreat.
And if you want to redress your tiles with something more natural-looking, there are faux wood flooring available in the market. This is a convenient remedy if you're not satisfied with the look of your current flooring. Think of it as your version of asphalt paving for a driveway.
Dress It Up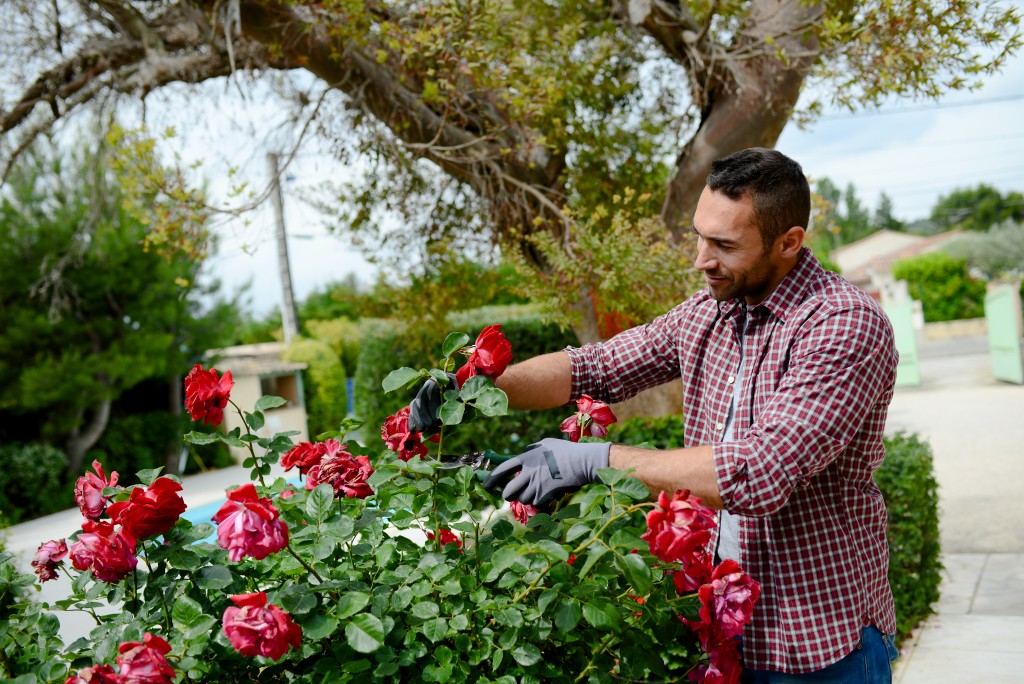 It's essential to add accents to your rainforest hideaway.
For a pop of color, dress up your mattress, pillowcases, and throw pillows with bright and floral designs. What would add character to your decorative additions is if they break away from the earthy color scheme. Prints draped in pink, purple, and yellow are good disruptions to the overall interior.
In addition, you would want to capture the greenery of the forest, so opt for green rugs. If you can find ones with leaf designs, they would definitely fit well with the tropical theme of your interior. As for the carpet, a shade of brown or beige is ideal. Since it occupies a large space in the apartment, keeping it on the neutral side would be the best choice.
Freshen It Up
The experience just wouldn't be complete without an explosion of aroma in your Amazon garden.
Diffusers are a great way to freshen up your place. You can choose from different scents such as lemongrass, fresh bamboo, ginger, eucalyptus, and cinnamon. But go with whatever fragrance evokes the image of fauna and flora for you.
There are also powerful scented candles that draw you closer to nature. From the smell of lemon leaves to the aroma of rosemary and basil, you'll definitely want to light up scented candles before you go to bed. The best place to put your scented candles is on your bedside table as you can easily watch the light flicker while inhaling its rich scent before you completely doze off.
Refurbishing your apartment takes a lot of time, effort, and a whole lot of paint. But if you want to turn your home into your ultimate rainforest escape—a far cry from the bustling metropolis you now live in, trying this 5-step process is worth every penny.