The condition of your surroundings can affect the way you work and your ability to stay focused. More to the point, it also can affect your productivity. That means that planning the design of your office is essential.    Studies show that the physical environment plays a crucial role in determining an employee's capacity to focus. Additionally, having a well-designed office can boost an employee's productivity by at least 20%. But despite these benefits, not all businesses have enough time to create a workplace conducive to productivity for their employees.
Merging creativity with function
When it comes to improving creativity and function, it's a must to find ways to make the environment work for your advantage. Although it seems complicated at first, making a few little adjustments can go a long way.   Adding a few lights doesn't only illuminate an area. Life Hack says that it can also help an employee stay focused and feel inspired. Having bad lighting can cause a person to feel fatigued and can induce headaches, usually brought about by eye strain. Inevitably this leads to irritability, and suppressed productivity. Additionally, dark spaces can make a person feel depressed, especially when endured for long periods.
Choosing the right sets of chairs and table is also great when designing office fit-outs in Melbourne. In the modern workplace environment, most employees see themselves sitting for long hours to perform their work. That's why it's crucial to find the perfect seats and tables that ergonomically fit the employees' needs.   One way to do it is to ensure that the employee's eyes are at least 24 to 36 inches away from the computer screen. Also, feet should either be resting on the floor or on top of a footrest. The chair should also be slightly reclined to reduce the pressure on the spine. Doing so also minimizes lower back pain.
How decluttering affects a person's mind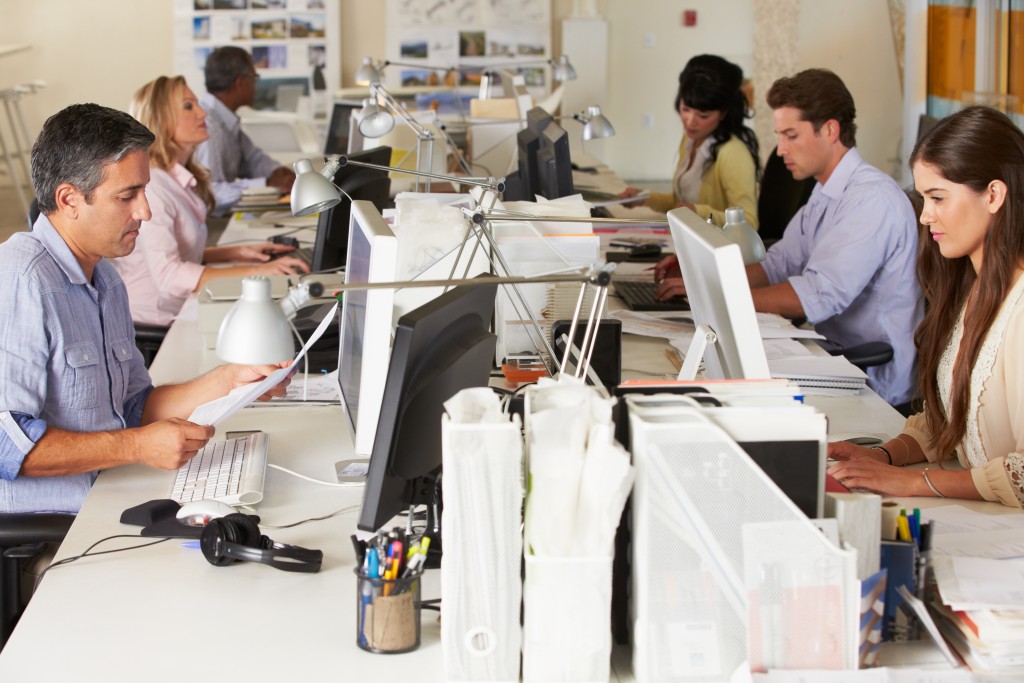 Most people find it challenging to work in a place that's full of clutter. That's why administrators and employees alike strive to ensure that their workplace environment is free of any unnecessary rubbish.   In most cases, trying to work in a messy environment is almost impossible. If your workplace is always full of various items, it'll soon take a toll on your productivity and make you feel stressed out.
Clutter doesn't affect the way one employee works alone. Medium says that it affects other employees too. That's why it's crucial that you encourage employees to clean their desk. Advise them to do it regularly before and after they've completed their shift. Also, encourage them to stay organized to boost their productivity and help them get inspired.  One way of doing this is by investing in office furniture that has plenty of drawer space. This will give your employees to organize their files and equipment neatly in their drawers.
Keeping employees' workstation at their best doesn't only make your workplace look decent; it can help boost their productivity, too. So, try to invest in pieces of furniture that can give them the option to organize all their materials. Doing so ensures that their stuff wouldn't be lying around all over the place.